Just released!

Lindeman's Boom Triggers Report

Summer Issue 2018-19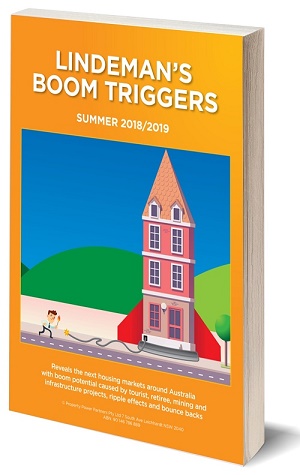 Lindeman's boom triggers is the ultimate resource tool for property investors, providing you with leading property market author, commentator and analyst John Lindeman's decades of expertise, years of desktop studies and months of intensive on the ground research distilled into one exclusive report.
Lindeman's boom triggers reveals forty-nine suburbs and towns around Australia which have growth potential, no matter how the rest of the housing market is performing.
Forty pages of intensive research showing you where and when the dynamics of demand are most likely to lead to housing price growth.
Whether the causes are bounce backs, ripple effects, potential retiree, tourism and mining booms, transport infrastructure, or dicretionary buyer booms, we've identified the suburbs and towns which have high price and rent growth potential in this report.
Such a wealth of knowledge – truly the investor's secret weapon
– Joanne Verikios, Brisbane QLD
 

WHERE AND WHEN TO BUY, WHAT TO BUY AND WHEN TO SELL
We explain the reasons why high growth is predicted as well as where and when demand is likely to rise.
In addition, this report shows you what types of properties to buy in each suburb or town, and how long the growth is likely to last.
Forty pages of indispensable research, making this report an essential part of your property investment tool kit.

We only ever select properties for our clients in suburbs from your reports.
The growth is amazing and our clients keep coming back.
You are so accurate we call you the guru.
– Kerri Hampton, MyPropertyBuyersAgents, QLD

JOHN'S PUBLISHED PREDICTIONS HAVE BEEN OVER 90% ACCURATE 
In Australian Property Investor "Hot One Hundred" Issue May 2013, John was the first expert to predict Sydney's coming housing market boom and to reveal which suburbs would be first to rise!
In Property Observer Issue of 27 May 2016 John correctly predicted that Hobart was the next property hotspot and would boom in 2017, just before the growth kicked in.
John predicted booms for Hay and Berri where prices doubled in a year or less and for Byron Bay where prices doubled (from $500,000 to $1 million) in just two years!
Our clients bought in Berri and prices doubled in just one year.
Great research you provided, mate.                               
– Anthony Ell, Ell Property Consulting, Sydney
FORTY-NINE SUBURBS IN FOUR STATES – ALL WITH BOOM POTENTIAL!

Your report is instantly downloadable as a .pdf file on receipt of payment.