The half time break is about to end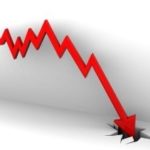 During the last year property buyer demand fell because of:

´       The big banks self-induced housing finance squeeze
´       APRA's controls on investor and interest only loans
´       Huge stamp duty hits for overseas property buyers
These restrictions have caused property prices to fall in some cities and fail to rise in others, but this situation is only temporary, because the demand for housing continues to rise strongly. What we are experiencing right now is like half time at the football – a temporary lull before housing demand forces prices up again. 
The demand for housing is increasing because of one inescapable fact – we have one of the highest population growth rates in the world – at 1.6% per annum, it's easily the highest in the western world, (more than double that of the UK or USA and three times that of China, according to the latest United Nations figures).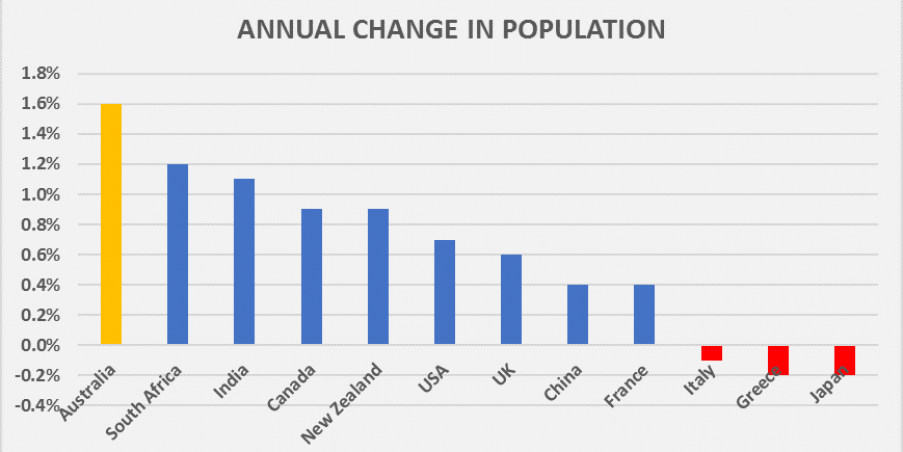 What makes these stats even more significant is that over sixty percent of our population increase now comes from overseas arrivals, and most of them (according to the latest ABS data released 20 December 2018), prefer to live in our three biggest cities, with one third heading for Sydney, one quarter to Melbourne and another ten percent to Brisbane.
People are also moving from the west to the east
That's not the end of the population boom story either, because many immigrants to cities such as Adelaide, Perth or other regional centres, make another move a few years later, seeking better employment prospects or more affordable housing.
This results in a net interstate migration of around 40,000 people to Brisbane, Melbourne and Tasmania each year, in addition to those directly arriving from overseas and all those arrivals from other States and countries need immediate housing, most of which will be rental accommodation.
Huge housing shortages are about to emerge
These huge numbers of new residents have obvious implications for our housing markets, especially the rise in rental demand it will generate in our eastern capitals, such as Melbourne and Brisbane. Because most of these new residents will become aspiring first home buyers when they are settled, there will also be a rise in buyer demand which will continue for years. That will occur even if the Federal government makes such a policy change.
The inevitable outcome of our rate of population growth is that we are about to face a huge housing rental stock shortage in our major eastern cities, accompanied by a surge in buyer demand when the housing finance controls are lifted and the banks seriously start lending again.
What are our governments doing about this?
We are facing major conflicts with our migration and housing policy, but our governments are doing nothing, and they will continue to do nothing, because migration is a Federal issue and housing is a State matter. High levels of overseas migration are economically good for our nation – new arrivals create work, keep labour costs competitive, keep our nation young and active.
Australia currently derives over sixty percent of its annual population growth from overseas arrivals, which is the highest relative intake of all the major nations in the world. Our Federal politicians see overseas migration as an economic benefit which has kept Australia out of recession for nearly thirty years. Even better, they don't have to worry what happens to migrants after they have arrived, because creating and providing transport, health, education and housing services are State matters.
This is why State governments are not so enthusiastic about high levels of overseas migration, but even though most arrivals end up in the already population challenged cities of Sydney, Melbourne and Brisbane, State politicians are powerless to control this in any meaningful way.
State governments get financial benefit from property buyers
The situation is even more confused because State revenues are heavily reliant on stamp duty from property transfers and so a rise in property sales is in State government financial interests. Many of the huge transport infrastructure projects currently underway in New South Wales, Queensland and Victoria rely heavily on stamp duty revenue from property sales.
So while State politicians publicly sympathise with frustrated potential first home buyers, they are really on the side of the big developers and investors who buy properties and generate the stamp duty revenue they need.
What should property investors do about this?
This is a unique period in our history. On the one hand, demand for housing is rising strongly, and on the other, our ability to buy property has been curtailed. It's like half time at a football match, with everyone taking a breather before the siren goes and the game continues, with an inevitable rise in both prices and rents in the eastern capital cities.
This temporary halt in buyer demand is not going to last very long, and the rising pressure of demand for housing is likely to have several different effects.
Firstly, asking rents in the big three eastern state capital cities will increase over the next year and lead to a renewed influx of property investors seeking higher rental yields.
Secondly, rising prices in these cities will encourage investors to look at the cheaper capital cities for affordable bargains.
Thirdly, opportunities for profitable renovations and developments as well as for long term buy and hold investments will grow in all capital cities as market driven growth picks up.
Market conditions now favour buyers in many suburbs of our capital cities and some suburbs also offer great cash flow potential as well as a strong medium-term price growth outlook and excellent buy and hold investment opportunities.
Where can you find these suburbs? In our just released Lindeman's Best Buy and Hold Suburbs reports, the only predictive reports personally produced by property market expert, John Lindeman.
Special offer: save 25% now by using this discount code: CBH25 at the checkout.