Where are our housing markets heading in 2019 and beyond?
Most experts making their housing market predictions for 2019 and beyond will rely on past performance, because they believe that the market will continue to perform in future as it always has in the past. Let's take a look at how our markets behaved in the decade from 2000 to 2009, when the onset of the GFC caused price growth to end, using official published ABS housing price data.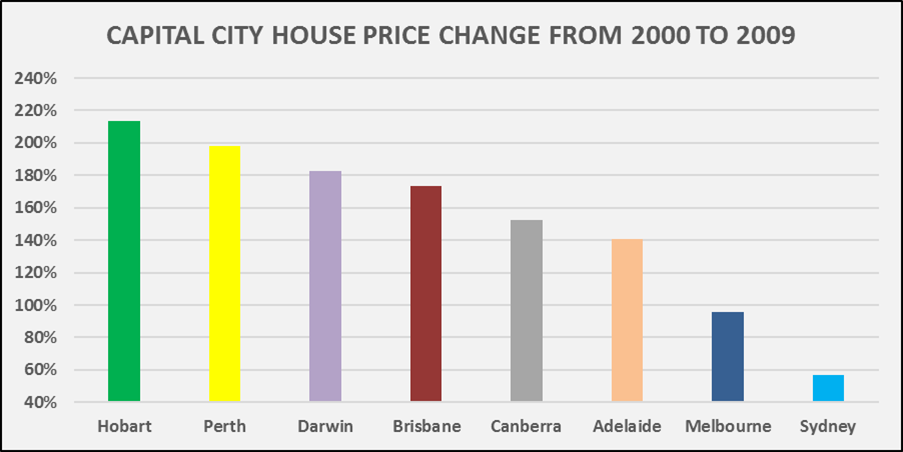 The first really interesting fact is that Sydney was the worst performing housing market of all capital cities from 2000 to 2009, with the median house price rising by 57%. Melbourne nearly doubled this percentage growth, and all the other capital city property markets more than doubled in price.
The second fact is that they didn't all go up at the same time – Sydney's housing prices shot up first, from 2000 to 2002 and then price growth stopped. Melbourne boomed from 2001 to 2003, Brisbane's property market boom started in 2004, then Adelaide, Hobart, Perth, Darwin and Canberra all boomed in successive years and growth slowed after a year or two of really high price rises.
The takeaway we gain from this is that the booms rippled from one market to another, and as markets became unaffordable, buyer demand moved to the next affordable city, where prices were cheaper. When prices in turn rose there, buyer demand moved to the next most affordable city and so on, until the boom ended.
Hobart's housing market rose the most in percentage terms because it was the cheapest. In other words, Hobart's median house rose the same in dollar terms as Sydney's did, which maintained the relative price difference between them.  
Now let's look at the way that our capital city housing markets have performed since then, and what we see is that the performance has been the wrong way around, with the dearest two cities going up in price the most, while the others have barely moved, except for Hobart.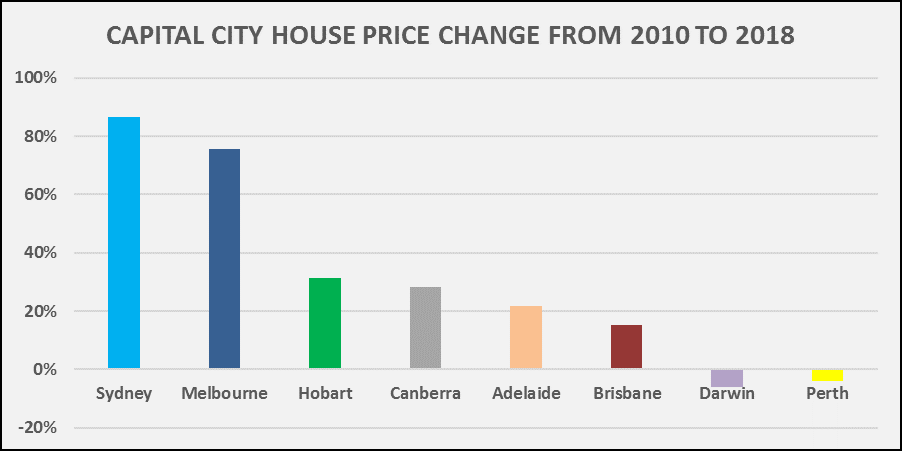 Some experts put this mirror image in performance down to causes such as the ending of the mining boom or high levels of overseas migration, but the real reason is that the price ripple effect of growth moving from one capital city to the next has been stopped dead in its tracks.
A succession of events, such as the Banking Royal Commission, APRA regulations on investor housing finance and the savage increases to stamp duty payable by foreign investors has interrupted buyer demand. My prediction is that when conditions return to normal, and these artificial controls on buyer demand are removed, demand will pick up where it left off, resulting in the following possible price growth scenario.
This forecast is not based on past performance, but on my analysis on the key demand trend dynamics of housing markets and their likely effects on housing prices over the next decade.
This analysis also indicates that the next housing market to boom is likely to be Brisbane.