Australia's leading property expert and best-selling author, John Lindeman, shares the fascinating story of his Dutch family's struggles and triumphs as they build a new home in Australia.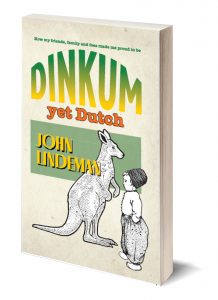 The best and worst of post-war Australia are laid bare in this enjoyable yet stirring story of a Dutch migrant family starting a new life in Sydney.  
Relive the exploits of their youngest son, who becomes John at school but stays Jantje at home, as he romps and stumbles through the fifties.
'Beautifully managed themes throughout'
You'll sigh and shed a tear or two, but mostly you'll laugh out loud as Dinkum yet Dutch brings the fifties vividly back to life and John's friends, family and foes make him proud to be dinkum, yet Dutch.
'Every page filled with energy and wit'
Paperback $22.99 plus packing and delivery in Australia